Dr. Maximilian Schiffer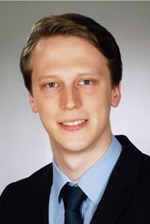 Dr. rer. pol., Akademischer Rat
Maximilian Schiffer

Room: 164
Kackertstr. 7
52072 Aachen
Office Hours
By appointment, registration via e-mail.
Research Focus
Maximilian Schiffer joined the Chair of Operations Management in October 2014. He holds a bachelor and a master degree in business administration and electrical engineering. In September 2017 he received a Dr. rer. pol. for his thesis 'Logistics networks with intermediate stops'. His Ph. D. was supervised by Prof. Gilbert Laporte and Prof. Michael Schneider.
Dr. Schiffer's research interests span across different fields of optimization and cover a wide range of transportation and logistics topics, e.g., electric commercial vehicles and autonomous systems, production planning, and data science. He collaborates frequently with some of the best international researchers in these fields, e.g., from Stanford University and HEC Montreal.
Supervised theses
| Type | Title | |
| --- | --- | --- |
| MT | Resilienz in Supply Chains - Applicability of concepts from natural sciences and engineering | |
| MT | Development of a Pack-to-Order Concept under Consideration of the Warehouse Planning for the Lumileds Germany GmbH | |
| MT | An efficient solution method for the Electric Location Routing Problem with Time Windows and Partial Recharging | |
| MT | Development and implementation of a multidimensional strategic targeting system for control and performance evaluation of various products in a globally operating mobility services provider | |
| MT | Potential analysis of existing and future warehouse- and distribution structures for the Bosch Thermotechnik GmbH | |
| MT | Production planning with limited storage between decoupled production steps and parallel production lines for the automotive industry | |
| MT | Strategic design of logistic networks for electric fleets considering battery swapping stations | |
| MT | Route planning for electric logistic fleets in consideration of battery degradation | |
| MT | Integration of renewable energies in recharging infrastructure of electric fleets by using decentralized energy storages | |
| BT | Operative route planning for electric logistic fleets | |
| MT | Strategic infrastructure planning for electric logistic fleets | |
Publications


Refereed journals
Scheiper, B.; Schiffer, M.; Walther, G. (2018): The Flow Refueling Location Problem with Load Flow Control In: Omega. DOI: 10.1016/j.omega.2018.02.003
Schiffer, M.; Walther, G. (2017): An Adaptive Large Neighborhood Search for the Location-Routing Problem with Intra-route Facilities In: Transportation Science. DOI: 10.1287/trsc.2017.0746
Schiffer, M.; Schneider, M.; Laporte, G. (2017): Designing sustainable mid-haul logistics networks with intra-route multi-resource facilities In: European Journal of Operational Research. DOI: 10.1016/j.ejor.2017.07.067
Schiffer, M.; Walther, G. (2017): Strategic planning of electric logistics fleet networks: A robust location routing approach In: Omega. DOI: 10.1016/j.omega.2017.09.003
Schiffer, M.; Walther, G. (2017): The Electric Location Routing Problem with Time Windows and Partial Recharging In: European Journal of Operational Research, 260(3):995-1013. DOI: 10.1016/j.ejor.2017.01.011
Working Paper
Schiffer, M.; Klein, P.; Schneider, M.; Walther, G. (2017): A solution framework for the class of vehicle routing problems with intermediate stops In: OM-DPOR-01/2017, Chair of Operations Management RWTH Aachen University
Schiffer, M.; Stütz, S.; Walther, G. (2017): Are ECVs breaking even? Competitiveness of electric commercial vehicles in retail logistics In: Les Cahiers du GERAD, Volume G-2017-47
Schiffer, M.; Laporte, G.; Schneider, M.; Walther, G. (2017): The impact of synchronizing drivers breaks and recharging operations for electric vehicles In: Les Cahiers du GERAD,, Volume G-2017-46
Schiffer, M.; Schneider, M.; Walther, G.; Laporte, G. (2017): Vehicle routing and location-routing with intermediate stops: A review In: Les Cahiers du GERAD, Volume G-2017-45
Schiffer, M.; Stütz, S.; Walther, G. (2016): Are ECVs breaking even? - Competitiveness of electric commercial vehicles in medium–duty logistics networks In: Working Paper OM-02/2016, Chair of Operations Management, RWTH Aachen University
Lectures (selection)
Schiffer, M.; Walther, G. (2017): Strategic planning of electric logistics fleets: A robust location-routing approach In: Annual Workshop of the EURO Working Group on Vehicle Routing and Logistics optimization (VeRoLog), July 10-12, 2017, Amsterdam, The Netherlands, Presentation July 11, 2017
Rüdel, F.; Schiffer, M.; Walther, G. (2017): User-based relocation strategies in free-floating car-sharing systems In: Annual Workshop of the EURO Working Group on Vehicle Routing and Logistics optimization (VeRoLog), July 10-12, 2017, Amsterdam, The Netherlands, Presentation July 10, 2017
Scheiper, B.; Schiffer, M.; Walther, G. (2016): Integrated Planning of Charging Infrastructure for Battery Electric Vehicles considering Interdependencies with the Electrical Grid In: International Annual Conference of the German OR Society 2016, 30. August - 2. September 2016, Helmut-Schmidt-University, Hamburg, Vortrag am 31. August 2016
Schiffer, M.; Walther, G. (2016): Strategic Planning of Electric Logistic Fleet Networks: A Robust Location Routing Approach In: International Annual Conference of the German OR Society 2016, 30. August - 2. September 2016, Helmut-Schmidt-University, Hamburg, Vortrag am 31. August 2016
Schiffer, M.; Walther, G. (2016): The Location Routing Problem with Intraroute Facilities In: Route 2016 - International Workshop on Vehicle Routing, Intermodal Transport and Related Areas, June 1-4, 2016, Rambouillet, France, Presentation June 3, 2016
Schiffer, M.; Walther, G. (2016): The Location Routing Problem with Intraroute Facilities In: Annual workshop of the EURO working group on Vehicle Routing and Logistics optimization (VeRoLog), June 6-8, 2016, Nantes, France, Presentation June 7, 2016
Schiffer, M.; Walther, G. (2015): The Electric Location Routing Problem with Time Windows and Partial Recharging In: Logistikmanagement 2015, 16.-18. September 2015, Technische Universität Braunschweig, Vortrag am 17. September 2015